Last week two amazing things happened to forward the mission of the faithful.
One, millions of ticketholders did not attend Coachella as planned thanks to a record breaking investigative journalistic effort here on chrisTwire and over 26000 Facebook faithful.

Coachella headliner
Two, recording artist Cee Lo Green, former African basketball teammate of Charles Barkley, followed chrisTwire's lead, but instead of boycotting, he attended Coachella, and attempted to take it down from the inside at the opening ceremonies.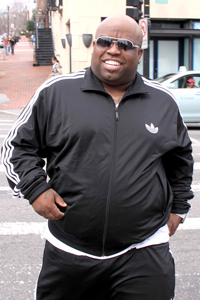 So much tribal rage
Yesterday, Cee Lo Green had a very special message for the organizers of the Coachella Music Festival. It began with "F" and ended with "You." The superstar was booted off stage and rallied his fans to a near riot. He was not pleased. The rapper screamed, pouted and demanded his fans flip the bird to Goldenvoice (the concert promoter). That didn't garner any good from the festival organizers and Cee Lo was unceremoniously booted. It's all my fault. Blame me," Cee Lo said sarcastically before storming off the stage to a symphony of boos from the crowd, leaving his band behind to play instruments that could no longer be heard in the audience.
..
.MA
How does this post make you feel?