Over a few week period we will be honoring ten of the greatest Christian heroes with a short 30 second read.
In our last report we profiled someone who actually fought on the frontlines of the sinful internet.
This time we profile one of the greatest politicians in American history.
History
Arnold Alois Schwarzenegger was born at the age of nine months on July 30, 1947 in Thal, Austria, a small village bordering the Styrian capital Graz. Schwarzenegger is an Austrian-American former professional bodybuilder, actor, model, businessman and politician who served as the 38th Governor of California (2003–2011).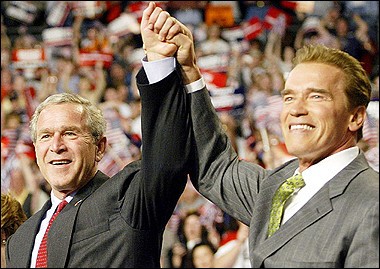 Christian Values
Schwarzenegger, who dreamed of moving to the U.S. since the age of 10, realized his dream by moving to the United States in September 1968 at the age of 21. The LA Weekly would later say in 2002 that Schwarzenegger is the most famous immigrant in America..
In 1985, Schwarzenegger appeared in Stop the Madness, an anti-drug music video sponsored by the Reagan administration. Schwarzenegger's first political appointment was as chairman of the President's Council on Physical Fitness and Sports, on which he served from 1990 to 1993. He was nominated by George H. W. Bush, who dubbed him "Conan the Republican".
At the 2004 Republican National Convention, Schwarzenegger gave a speech and explained why he was a Republican:
I finally arrived here in 1968. What a special day it was. I remember I arrived here with empty pockets but full of dreams, full of determination, full of desire. The presidential campaign was in full swing. I remember watching the Nixon-Humphrey presidential race on TV. A friend of mine who spoke German and English translated for me. I heard Humphrey saying things that sounded like socialism, which I had just left.
But then I heard Nixon speak. He was talking about free enterprise, getting the government off your back, lowering the taxes and strengthening the military. Listening to Nixon speak sounded more like a breath of fresh air. I said to my friend, I said, "What party is he?" My friend said, "He's a Republican." I said, "Then I am a Republican." And I have been a Republican ever since.
Controversy
On April 26, 1986, Schwarzenegger married Maria Shriver, niece of President John F. Kennedy, in Hyannis, Massachusetts. Marring a Kennedy, and doing so in Massachusetts, was a double blow which would haunt his strong sense of morals for years to come.
Redemption
On October 7, 2003 Schwarzenegger was elected the 38th Governor of California. After Ronald Regan and Richard Nixon, Schwarzenegger is now widely accepted to be the greatest Governor in state history.

Christian Heroes reported so far
Big Ben Roethlisberger.
Marshal Mathers III.
Harrison Ford.
Michael Richards.
BloodNinja
..
.MA
How does this post make you feel?