It seems The Phish can't stay out of the news. Last week, Police in Boulder, CO began the search for a man fitting the following description: "a skinny, black-haired, white man in his twenties, standing between six-feet-five and six-feet-eight inches tall, with cuts on his back and arms and wearing only a pair of gray sweatpants", who happened to be covered in feces.
A young woman who was merely trying to use the porta-potty in peace at a local yoga festival was horrified when she noticed something moving in the tank below her. As she fled in terror to ask security for assistance, the door locked behind her. Moments later, a man soaked in excrement and blue dye emerged from the bowels of the toilet and began running. Security gave chase to no avail.
http://blogs.westword.com/latestword/2011/06/man_hides_porta_potty_tank_yoga_festival_unlawful_sexual_contact.php>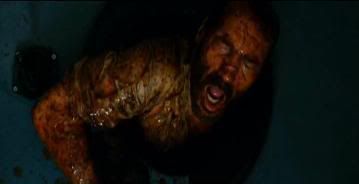 It turns out that the man in question was also wanted by police for "unlawful sexual conduct". He was suspected of spying on women all over the local University of Colorado campus, which included drilling out peep holes in woman's restrooms and trying to inappropriately grope female co-eds.
It should come of no surprise that this man was also a local, drifter hippie who gave up his Christian name to take on the transient alias, "Sky".
Associates of Sky gave police a new lead when they claimed that he was heading to The Phish festival known as "Super Balls" in upstate New York this weekend. He was described as being a "dedicated phollower" of the band. Fans of "The Phish" are notorious for replacing the Christian spelling of words that begin with "F", with "Ph", which is akin to gang members who use a secret language to communicate their misdeeds with each other. Christwire contributor, Brother Stephenson Billings has done great investigative pieces that bring to light these esoteric communication methods used by The Phish community. http://christwire.org/2011/06/when-it-comes-to-the-phish-music-censorship-is-not-enough/
Could the music be to blame for this anti-social behavior?

Hippies are known for bizarre sexual fetishes, such as cross dressing
It seems "Sky" may have been trying to emulate one of his idols. In 2003, The Phish bassist, Michael Gordon was arrested and convicted of child endangerment when he molested the 9 year old daughter of a Hell's Angels member at a Dead show. He was rightfully beaten senseless by the bikers. http://phisharchive.com/articles/2003/mikerolling.html
Gordon's dangerous and bizarre behavior should have been noticed a long time ago if fans of The Phish were sober enough to realize what was going on in The Phish's music. Gordon co-penned songs like "Weigh", which revels in weighing the severed body parts a young girl in a nod to some kind of murderous sadomasochism. In the tune, "For Esther", Gordon celebrates the gang rape of a prepubescent girl, and in "The AC/DC Bag", he exclaims the line "I'll show you mine if you show me yours!" which is likely referencing a conversation he had with one of his young victims.
A depraved Gordon stares into the camera. He has been known to have a strange relationship with small animals
So it should come of no surprise that listening to The Phish's music has a direct correlation to the behavior of peeping tom super fan, "Sky". I will be flying into New York in the morning to attend this Super Ball undercover, as many of you know, and while I was planning on helping authorities catch drug smugglers, I believe my first priority should be to find this sexual deviant named "Sky". We already know that we cannot rely on the fans to turn in one of their fellow hipsters, so this task will require outside assistance.
If any of you spot a man fitting the description of "Sky" mentioned above, feel free to contact Detective Jeremy Frenzen at 303-441-1890. I urge you to proceed with caution however, as "Sky" is a reputed member of the notorious hippie street gang known as "The Nitrous Mafia", and he may be armed and dangerous.
(Michael Gordon isn't the only member of The Phish to have legal trouble. Pictured below is frontman Trey Anastasio's mugshot from a recent drug conviction)
How does this post make you feel?