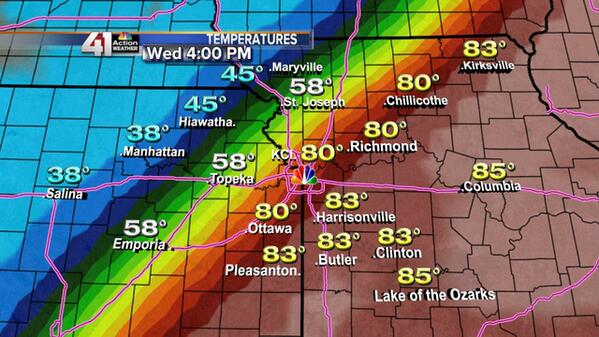 God distributes the weather patterns so as to make a rainbow color appear on meteorologists reports on the 4:00 pm news. God was giving a warning that the following day, he would strike down everyone's plans for a nice, warm Spring.
Only one day ago, the weather in Kansas looked fabulously gay. God gave the symbol of the rainbow on weather charts, giving us a 24-hour warning and clear sign that the weather was about to change. The rainbow symbolizes exactly why he had to do it: gays.
For all winter long, gays have managed to keep things hot and steamy by their sweeping victories all across the nation. Two more states have legalized gay marriage. It is now okay to put the shrimp in the backyard flesh Barbie in New Zealand and two men can now O-la-la all they want in France, thrusting their little Oui-oui Eiffel towers into each other's tourist traps.
Let us be honest for a second: the thought of two fit, firm men dominating each other can be exciting and sinful. And what man would not want to see to ample, thick-thighed women hardly contain their excitement for each other as they rip of clothing and find all sorts of gymnast Olympian angles of rubbing to bring each other pleasure? Anyone who denies these thoughts are sinful, yet hot and sultry, is committing the sin of telling lies. Any normal human will somehow turned on by one of those gay scenarios, and hence, why gay marriage and gay adoption is gaining ground.
Even yesterday, Paul Ryan showed that he's entertained the idea of jumping into a gay encounter — be it male or female — by announcing that he fully supports gay adoption. It's contagious and there is only one being truly immune to getting turned on if exposed to too much talk about gays in bed: God.
He's effectively throwing ice into the pants of the heartland. He's cooling our thoughts and warning all the world that he controls nature. It is not natural for the Midwest to have ice in May, just like it is not natural for a flesh torpedo to probe the internal gluteals of a ankle-grabbing power bottom. And that's the weather.
I love to hear your feedback. Email me at candyapple@christwire.org to chat about this article or another that you may have loved and read here on ChristWire.
How does this post make you feel?